QMS - Services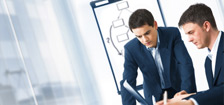 QMS is the company that listens to the requirements and market developments through specialized and high level services, providing its customers with complete solutions with immediate results.

Our pioneer is that our customers, companies, freelancers, individuals, addressing our company, are served , finding a range of different and quality services saving as much as possible their valuable time as well as their money.

Our philosophy is our constant pursuit to meet your expectations with consistency, reliability, professionalism and undivided interest.
Subsidies
21/09/2011
19/09/2011
Νέα καινοτομική επιχειρηματικότητα - Ενίσχυση πολύ μικρών & μικρών νεοσύστατων επιχειρήσεων
Μάθετε περισσότερα